Ivy
Built with Guest Room
4109 SF
5
3.75
3
Signature Outdoor Room, Guest Room, Multi-Purpose Room, Grand Butler's Pantry, Leisure Room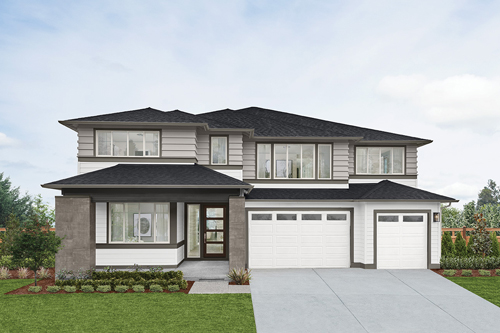 Guest Room with 3/4 Bath access
Soaring Two-Story Foyer, Great Room, and Dining Room
Grand Butler's Pantry with direct access to Garage and additional Walk- In Pantry featuring unique window splashback
Luxurious Grand Suite with designer free-standing tub, frameless walk-in shower, and dual vanities capped in Quartz
Centrally located Signature Outdoor Room with direct access to Great Room and Kitchen
Schedule a tour
Ultra-volume luxury gives homeowners in The Ivy a hit-the-pedal green light to tap into quantum space and choices so savvy. In way, this home almost powers itself on modern flexibility.

Best of all: even with all this space, The Ivy prioritizes personalization for your one-of-a-kind household. Start by re-charging your energy in the sweeping Grand Suite. Follow the exclusive upstairs hallway toward the sleeping quarters. Then turn into the Grand Bath Suite. It's flush with indulgent amenities – from a soothing free-standing soaking tub to the chic vessel sinks filled by stylish Grohe faucets. The generous Dressing Room can handle even the most extensive all-season wardrobes.

One of The Ivy's three upstairs Secondary Bedrooms is an ensuite; all boast their own Walk-In Closet. Spoiled like this, there are no laundry complaints – plus the Utility Room is nearby. So is the front-facing Leisure Room which enjoys an extra bump of relaxation space because it flows over the half-wall, looking out onto the welcoming Foyer below.

A second outlook gazes out from the Grand Suite hallway and artisan-crafted staircase toward the power of shared living space. Sophisticated entertainment features here generate their own energy. It starts when the Great and
Dining rooms below connect to the Gourmet Kitchen, forming a savvy L-shape around the undeniably attractive Signature Outdoor Room.

This zone is also framed by the Multi-Purpose Room in a family-friendly extension off the hospitality- hub Gourmet Kitchen. In the far opposite corner: a Guest Room off a vestibule stemming from fashionable Foyer. Nearby, a three-quarter bath with exquisite amenities open to both guests and homeowners pops and shines with stylish tile flooring, a vibrant gloss vanity, elegant lighting, designer Grohe fixtures and more.

The Gourmet Kitchen, meanwhile, is ready to fuel your natural hospitality. Even entry-level hosts feel like experts at the Quartz-capped service island and counters, complementing attractive European-style cabinets and gorgeous Stainless Steel appliances. From here, it's easy to whip up on-the-spot parties just steps from the Grand Butler's Pantry – and even more exclusive to access the super-stock-and-storage walk-in Butler's Pantry with its discreet door to the three-bay garage.

Dynamic. Sophisticated. Modern. The power source? MainVue Homes. And it all runs naturally because The Ivy generates its own boosters from luxurious energy.


Read More
Show Less
Build the Home of Your Dreams
Want to build your favorite MainVue Home design so you can customize it to suit your lifestyle? Our Sales Consultants would love to help you find your dream lot and walk you through the build process with MainVue Homes.
Contact Us