Azalea
Three-Story Home with Guest Room
4417 SF
5
3.5
2
Signature Outdoor Room, Guest Room, Home Office, Multi-Purpose Room, Grand Butler's Pantry, Recreation Room, Covered Patio, Leisure Room, Grand Suite Deck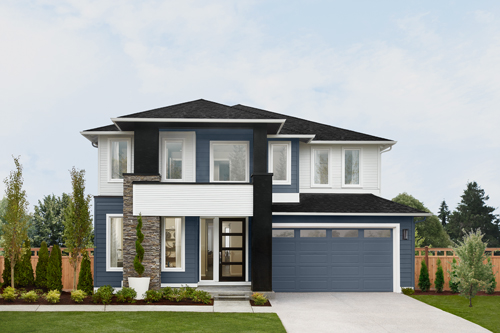 Three-Story Basement home design with Guest Room, Recreation Room and Covered Patio on lower floor
Grand Suite features unique exterior Deck with dual sliding glass doors accessing the Bathroom and Bedroom
Home Office and Multi-Purpose Room located on Main Floor creating flexible work and play spaces
Grand Butler's Pantry with unique window splashback, 3cm Quartz counters and ample cabinets for storage
Centrally located Signature Outdoor Room surrounded by 3 walls of sliding glass doors with access to Dining, Kitchen and Great Room
Schedule a tour
Like fuel to flame, modern creativity sparks instantly with inspired opportunity to light up three brilliant levels in The Azalea. Designs rarely get more vivid than naturally illuminated features here. Oversized windows frame the ground-level Patio. Sensational sets of sliding glass doors outline the main level Signature Outdoor Room. Invitation- only window walls on the third-level Grand Suite Deck divide the Grand Bedroom from the luxurious Bath.

Generous light makes itself at home here – much like overnight visitors welcomed into The Azalea's main-level Guest Room, just steps from the stylish Powder Room. When paired with yet another Guest Room – this second one tucked into a corner in the daylight basement – brief or longer-stay accommodations grow exponentially.

No matter the length of stay, an immediate sense of arrival begins at the sophisticated Foyer. Natural light from the custom glass-panel entry door flows into the carpeted Home Office and across the rich, wide-plank timber-look flooring that stretches deep through the front hallway.

Once it opens up deeper into the main level, lighting continues waltzing with color. The Great Room fireplace glows with a multi-faceted ambiance. Nearby, flush-mount, energy-efficient LED lighting plays mood-setter in the Gourmet Kitchen. Just try taking your eyes off the modern chandelier dazzling in the Dining Room before
letting recessed can lights dim romantically in the centerpiece Signature Outdoor Room for open-air cocktail parties. Even the practical Grand Butler's Pantry enjoys light tap-dancing atop its Quartz-capped counters through an artful window Splashback.

When the house is filled with guests, family-time privacy takes on even more importance. That's why the top-of-the-staircase Leisure Room is perfect for sweats-and-pajama moments. Sip coffee. Practice yoga poses. Host a kids' toy zone. Three Secondary Bedrooms define the front of this plush carpeted level; a hallway to the Grand Suite's double-door entrance creates a separate wing. Wrap up in a cozy robe from either of the dual Dressing Rooms before soaking in the luxurious tub, then melt into a chaise on your exclusive Grand Suite Deck.

Two floors below, flip the basement vibe switch for higher energy in the ever-ready Recreation Room. It's spacious enough for a gaming table or wall-set entertainment display. The Rec Room frames one side of the ground-level Patio – covered from above by the Signature Outdoor Room. The Guest Bedroom on this level bookends the protected Patio's other side.

No matter the room, The Azalea seems to have a way of turning up the spotlight in any of its luxurious spaces.
Read More
Show Less
Build the Home of Your Dreams
Want to build your favorite MainVue Home design so you can customize it to suit your lifestyle? Our Sales Consultants would love to help you find your dream lot and walk you through the build process with MainVue Homes.
Contact Us