Luxury Inclusions
Are Our Standard
With the most sought-after luxury finishes included as standard in every home, the buying process is effortless and stress-free.
Video Tour
Luxury From Top To Bottom In These Designer Inclusions
Forward. Backward. And every direction in between. Fine living is a 360-degree commitment.
Wood and Frosted Glass Front Entry Door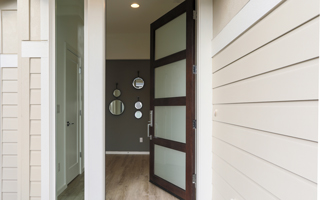 Even before you insert the key, your MainVue oversized, custom front entry door earns immediate street cred for its dynamic style. Feel the substance and detail of its solid wood – and savor the refinement in its bright chrome hinges for additional shine.
Sense the privacy of frosted glass inserts, which also allow natural light to flood the Foyer
Safeguard entry with keyed-entry handle set and secured deadbolt in designer Chrome finish
Wide-Plank Timber-Look Flooring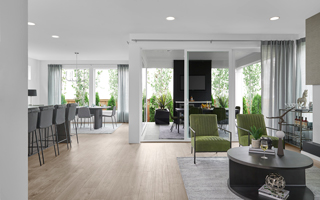 First, you marvel. Then stride confidently across wide-plank, timber-look, brushed-finish flooring that begins in the sophisticated Foyer and flows effortlessly throughout the main level.
Bank on its easy-to-clean real-wood look for an authentic beauty and feel
Depend on the resistance to stains, dents, scratches and fading
Elegant and Practical Interior Lighting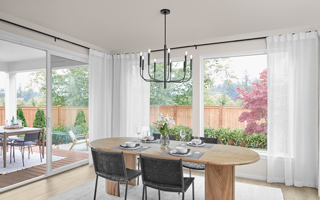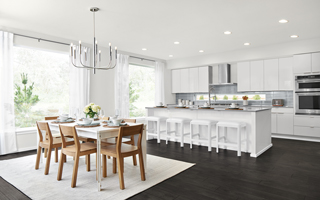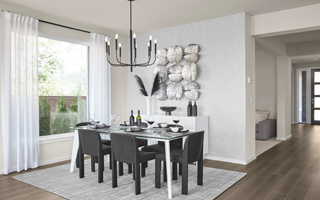 Sharpen the elegance and energy efficiently simultaneously – and spotlight chic and practical fixtures in key locations throughout the home.
Up your Dining Room style when nine cylindrical bulbs in the chandelier come to light in Chrome or black matte finish
Find anything you ever tucked away in Closets, Pantries and Under stair Storage with flush-mount LED lighting fixtures in brushed Nickel finish
Expansive Oversized Windows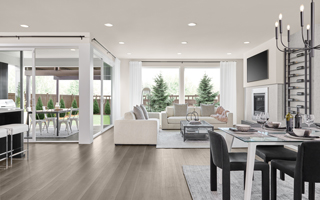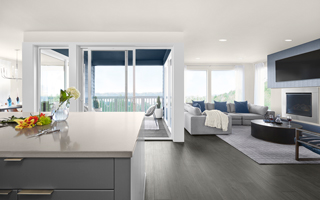 Earn an entirely new point of view when expansive windows – engineered for maximum efficiency – bring on the artistry and natural light. Their dual-glazed, low E-glass makeup drastically improve lighting while reducing heating and cooling costs.
Lounge in the comfort of MainVue windows, wrapped with 6-inch moisture barriers
Welcome fresh air in through screens at all operable windows and sliding glass doors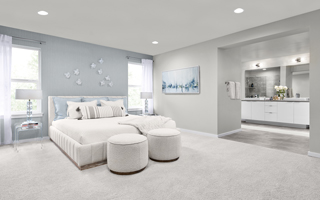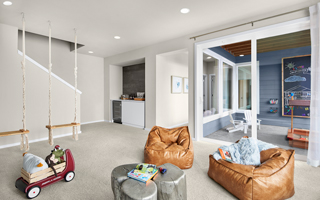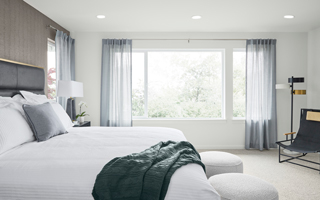 Bare feet can't thank you enough for the comfort of this soft, textured carpeting with smooth, level finish. Your vacuum will appreciate its natural soil and stain resistance.
Admire the carefully selected shade, coordinating perfectly with the home's color scheme
Listen to improved acoustics - courtesy of a high-density cushioned pad, which extends carpet life and enhances comfort
Stainless Steel Surround Great Room Fireplace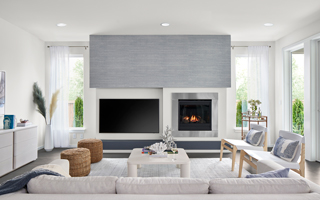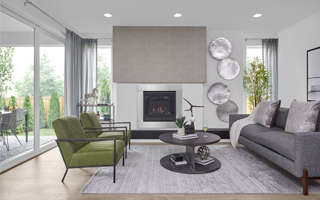 Make fireside season year-round when your dramatic gas fireplace with Stainless Steel surround and naturally inspired log insert are this elegant. It means you can feel your fireplace inspiration any time of year.
Relax while direct-vent technology removes any fumes or combustion exhaust efficiently and effectively from your home
Sleep comfortably, knowing your battery backup ensures a reliable source of warmth, even in a power outage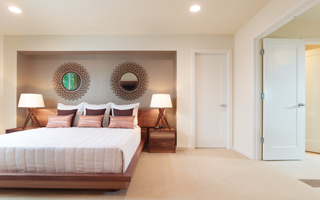 Feel the reward each time you open any of the contemporary one-panel interior doors arranged throughout your home. Bonus: Chrome accents add a touch of sparkle to levered hardware and hinges.
Achieve your best style with single-panel timber doors featuring frosted glass inserts on the main floor Powder Room, Butlers Pantry, or Pantry*
Feel secure in the highly rated solid-core, single panel door with self- closing hinges and deadbolt connecting the garage to the home's interior
Access front-row seats to ultimate outdoor rest and entertainment in the Signature Outdoor Room via oversized two- or three-panel sliding glass doors with dual-glazed low E-glass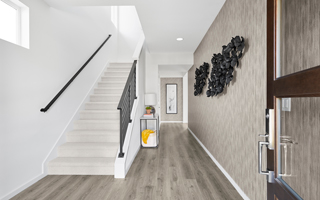 Bump up your style stature at least one floor with an exceptionally crafted MainVue staircase. Engineers have thought of everything – including how to use the space beneath and beside the grand ascent.
Slip your hand along the custom-designed open iron railing, with its tailored matte black finish and wood top cap
Half-walls*, selectively placed with safety in mind at upper floors, maximize views into sophisticated open spaces* below
Centrally Located Utility Rooms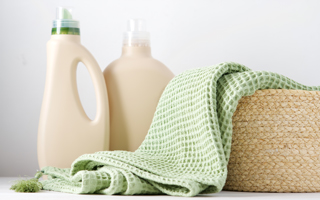 Cut wasted steps out of your old laundry routine with MainVue's centrally located Utility Room with ample space for a full sized washer and dryer. Wall-to-wall vinyl flooring resists scratches, stains and typical wear and tear.
Avoid lint and humidity with the recessed dryer vent box
Access convenient hook-up and safety shut-off valve with recessed washer box
Energy-Saving
Included Features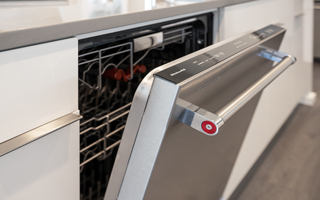 Feel your savings add up and your comfort expand exponentially with a range of features designed to make each MainVue home energy efficient.
Gas Furnace Start planning your cozy moments now with this extra-efficient gas furnace excelling with up to 98.5% certified AFUE (Annual Fuel Utilization Efficiency). The furnace is ideally located inside the home in a conditioned and heated space.
Heat Pump Look no further for one of the "greenest" ways to heat and cool your home. The dual heating and cooling capabilities of your MainVue heat pump are powered by renewable energy.
Wi-Fi Enabled Thermostat Program customized-to-you comfort and energy efficiency with a Wi-Fi enabled thermostat connected to the furnace and heat pump to precisely control indoor temperatures and humidity.
Hybrid Electric Water Heater Boast a bit about your ENERGY STAR® rated water heater. It's four times more efficient than a standard electric tank and is ideally sized for your home to maximize efficiency.
High Performance House Wrap Combine the best in breathability with the highest weather resistance with 60 Minute house wrap. This high-performance barrier provides protection behind outside wall covering, preventing moisture and condensation between exterior surfaces.
Direct Vent Fireplace Prevent heat loss with this intentionally engineered system that converts fuel into usable heat.
Insulation Stabilize and maintain a comfortable whole-home temperature with R49 blown fiberglass attic insulation, and R21 fiberglass batt insulation in exterior walls.
Super Sealing Reduce heating and cooling costs with high efficiency sealant inserted at exterior sole plates, can lights and electrical boxes.
Energy Saving Appliances Enhance your good taste in MainVue's Gourmet Kitchen with an array of energy-efficient appliances – from the dishwasher, microwave and oven, to the cooktop and hood.
LED Lighting Maximize broad and precise lighting while decreasing energy usage with LED bulbs and fixtures arranged through your MainVue Home.
Innovative
Storage Spaces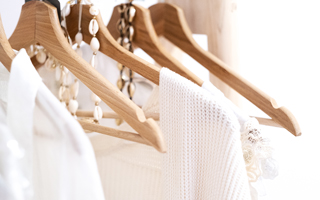 Your storage deserves to be chic. Organized. Practical. Functional. Best of all, MainVue's storage spaces are perfectly placed.
Stack-and-store with all the space you ever dreamed of in your walk-in Linen Closets with white ventilated shelving*
Spin your spacious Grand Suite Dressing Room into a shoes and clothing gallery with all the white wire shelving needed for multi-season wardrobes
Pack camping gear, summer toys, and winter holiday decorations in dedicated Garage storage*
Modern Finishes on Ceiling, Walls, and Niches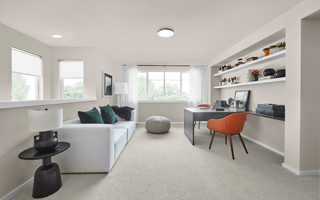 Grace every angle, wall, ceiling and niche with finishing touches worthy of your sophisticated style. Clean-cut square corners are incorporated for extra modern finishes.
Admire wall alcoves added throughout to offer designer accent elements*
Soak up the custom built-in feeling where cabinet and architectural details transitions with extensive soffit
Achieve even, clean finishes on walls and ceilings with a light fog and dash texture (excluding garage)
Find Your Facade
The interior of your home says so many things about you, but it's the exterior of your home that makes the most impressive first statement.
Discover the MainVue facade collection to find your facade.
Explore All Facades
Find Your Color Scheme
Explore MainVue color schemes designed by a team of international professionals. Find what fits your personality, design flair and your unique style of living.
Color Schemes