As we navigate through COVID-19, Model Home hours will vary. Please contact a community representative or call 1.866.407.1020
to schedule your visit. With the best interest of our community and safety in mind, we ask you to please prepare for your visit by reading our safety protocols
here
.
SAVE THOUSANDS
A YEAR IN ENERGY
EFFICIENCY COSTS
ENERGY SAVINGS
WITHOUT SACRIFICING
STUNNING DESIGN
QUALITY ASSURANCE
THROUGH THIRD PARTY
INSPECTION AND TESTING
WHOLE HOME EFFICIENCY GUIDE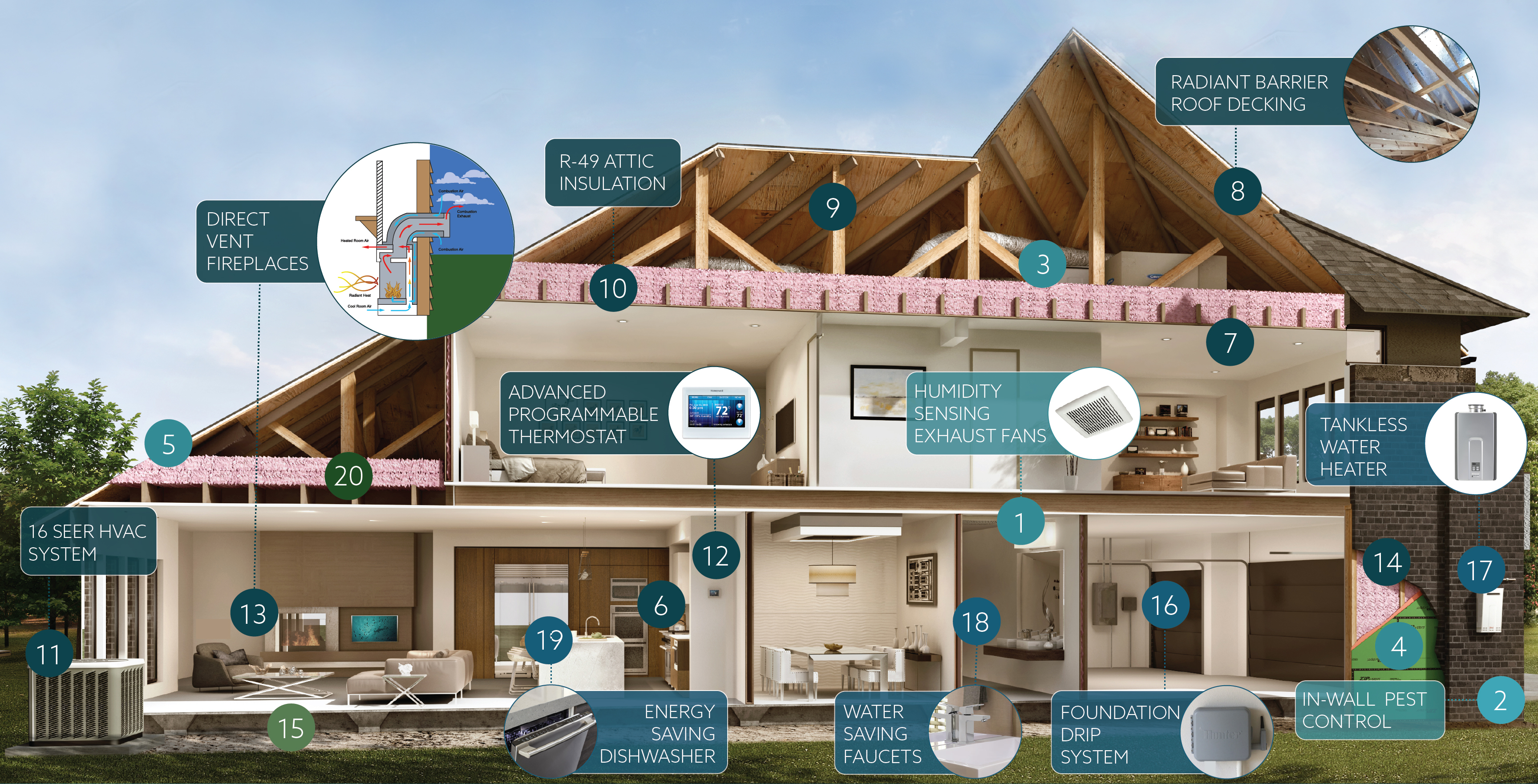 HEALTHY
INDOOR AIR
1

Humidity-sensing Exhaust Fans at all bath areas and utility rooms: Sensors reduce energy use by automatically operating fans only when needed.

UV-Resistant Windows: This glass reduces ultra-violet rays that are harmful to humans, pets and home furnishings.

Polyethylene Plumbing Piping: No-corrosion alternative to copper, with less risk of leakage - a moisture-prevention move that maintains healthy indoor air.

Flexible for fewer fittings, reduced leak-point liability
Resists corrosion, pitting and scaling
Resists condensation on cold-water lines
Expands up to 3X its diameter to help resist freeze damage
EConnections do not require the use of dangerous chemicals or solvents
Offers a complete lead-free system from inlet to faucet
NSF International certification for water purity

2

In-Wall Pest Control: The most effective materials in pest control are strategically placed between walls creating a barrier to keep pests from entering your home. No need to spray inside the house.

Evoke Composite Flooring: Water resistant flooring, less likely to react to moisture. Certified GREENGUARD Gold for its very low VOCs suitable for sensitive individuals.

3

Fresh Air Management: Independent air handler brings in fresh air at pre-programmed intervals to promote quality indoor air and allow the home to "breathe".

Moisture-resistant materials behind tubs and showers.

4

ZIP engineered structural sheathing system with integrated water resistance and high performance air barrier to reduce air and moisture infiltration.

5

Properly ventilated attics achieved through a passive intake and exhaust system.
COMPLETE ENERGY
EFFICIENCY
6

Exquisite appliance menu: highly-recognized Electrolux appliances offer professional-grade performance, looks and energy efficiency.

Dual-glazed "Low E" windows: Made to reduce heat transfer and reduce UV radiation waves, while welcoming natural light.

7

Whole Home LED Lighting: All non-decorative lights are energy efficient, cool to the touch, long lasting and warm-colored LEDs.

8

Radiant Barrier Roof Decking: Designed to reflect the radiant heat from the sun to maintain indoor comfort - all while lowering cooling costs.

9

Lot Specific Engineered Framing: Each home is individually designed to account for wind loads based on orientation. 2x6 exterior wall framing results in a more structurally sound home with additional insulation.

10

R-49 fiberglass insulation in the attic.

Independent testing for air leakage.

11

"Right-Sized" 16 SEER HVAC and Duct systems: By introducing individual-engineered heat, ventilation and air conditioning, there's an accurate sizing assurance maximizing comfort and lowering energy use - which means friendlier energy bills.

Sealed insulated ducts prevent wasteful air leaks.

12

Advanced programmable thermostat: Consistently sets personalized heating and cooling - even when you're not home.

Super Sealing: Outstanding sealing can be found at exterior sole plates, penetrations to non-conditioned spaces and electrical boxes - all designed to reduce heating/cooling costs.

13

Direct Vent Fireplaces: Safer than masonry fireplace, these designs are glass-sealed preventing air loss.
14

R-19 Fiberglass Batt Wall Insulation(1): Helps maintain a comfortable temperature level in the home by insulating the inner walls. Softens interior noise by improving the Sound Transmission Class of exterior walls. Dimensionally stable and won't slump within the walls.

Direct air returns at all bedrooms: This ensures balancing of the heating/cooling system thereby improving comfort by minimizing "cold" or "hot" spots.

(1) R19 batt at 6.25" compressed to 5.5" is R18
QUALITY
INSPECTIONS
Over 20 independent inspections throughout the home building process.

15

Individually engineered post tension foundation and structural framing.

Third-party verified 300-Point Move-In Ready inspection.

Pre-drywall inspection to ensure that your home is sound behind the walls.

Sheathing, Sealing and Flashing Inspections. Separately and collectively, this ensures a tight building envelope.

Lot specific, room-by-room HVAC load calculations. Pre-move-in "commissioning" to confirm the HVAC system is as designed.

Professional energy audits focusing on Blower Door testing, measuring interior and exterior air flow around exterior door frames.

Pre-foundation, framing, and shear wall inspections by a licensed engineer.

Duct Blaster Testing: Checks and corrects potential duct leakage.

MainVue's final Quality Assurance Inspection.
WATER
CONSERVATION
16

Foundation drip system: provides uniform moisture during periods of low water usage.

Rain-Sensing irrigation control: Keeps yards lush without wasting water.

17

Tankless Water Heater: Conserves energy by only heating water as needed. Tankless water heaters generate lower utility costs than traditional tanks.

Water Heater is zoned per side of the house to shorten the distance to the water source and improve the delivery speed of hot water

Tankless digital thermostat located inside the home

18

Water-saving faucets, shower heads and toilets in all bathrooms.

19

Eco-friendly dishwasher: Adopting water-wise system designed to save money and provide 4 times the rinse coverage with the same amount of water needed to get each specific load clean.
ENVIRONMENTAL
PRESERVATION
Finger-jointed studs result in straighter framing members with less timber waste.

20

Unfaced fiber glass batts will not support mold growth(1) and do not absorb moisture.(2)

Constant efforts and improvements in whole home energy efficiency resulting in our part in preserving precious natural resources.

(1) per ASTM C1338, Test Method for Determining Fungi Resistance of Insulation Materials and Facings
(2) per ASTM C1104/1104M, Test Method for Determining the Water Vapor Adsorption of Unfaced Mineral Fiber Insulations
The MainVue Difference
From our reliability and history to our style and fresh approach. With MainVue Homes, the difference is everywhere.
Discover the 12 keystones that set MainVue apart from the rest
Discover the Difference