As we navigate through COVID-19, Model Home hours will vary. Please contact a community representative or call 1.866.407.1020
to schedule your visit. With the best interest of our community and safety in mind, we ask you to please prepare for your visit by reading our safety protocols
here
.
Favored Facades;
Countless Choices
The interior of your home says so many things about you, but it's the exterior of your home that makes its always important first statement.
Discover the MainVue facade collection to find your favorite.
Cosmopolitan Facade Collection
Sharp, straight, modern lines.
Prefer to emphasize a new twist on time-honored noble Texas styling? Explore the Cosmopolitan facade collection, crowned by MainVue's super-soaring roof pitches, dynamic arched entries, and stone selection finishes that are much loved throughout greater Dallas.
Facade B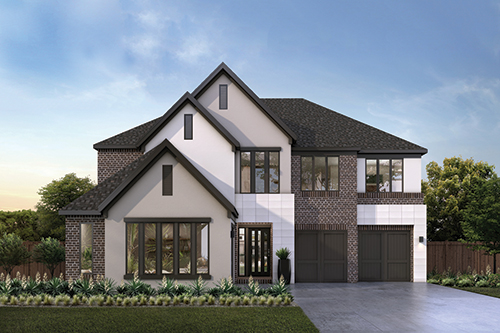 B Facade Features:
An elegant inverted "L" feature element creates the porch and is a defining detail of this façade
A harmonious mix of traditional and contemporary elements create a duality which is both elegant and visually intreguing
Slender windows poche the façade and compose a modular symphony of rhythm and balance
Gable forms are finished in stucco for a dramatic play of stepping planes and opposing textures
Facade C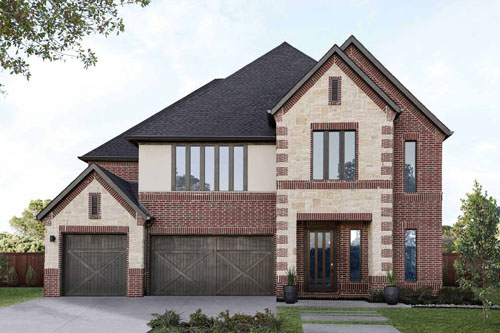 C Facade Features:
A striking two-story gable element is a signature feature of this elegant façade. Details like the brick lintel and brick quoining bring added character via contrast and texture
Vertical window shapes poche this façade and are grounded by horizontal brick banding
Duality of horizontal and vertical forms and voids are celebrated on this beautiful façade which marries traditional elements with contemporary form and concepts
More Facades to Choose From!
MainVue Homes has endless selections of facade styles.
Ask us for more details!
Ask Us
A Professional Palette of Charismatic Color Schemes
Explore MainVue color schemes designed by a team of international professionals. Find what fits your personality, design flair and your unique style of living. to help find the one that suits you best!
Explore All Schemes